At Odyssey, we offer a full range of Organisational Development services and interventions. We use a practical, mission-critical approach to each intervention, understanding that each organisation has its unique needs, values and goals.
As we work with organisations and teams, no one part of the "system" is treated in isolation since they all influence and are influenced by one another. We go way beyond the presenting issues and engage in comprehensive organisational diagnosis to ensure a systemic approach to addressing client issues and challenges.
Organisational Development
Organisational Development is a planned, whole-system, sustained approach to improve organisational systems and optimise organisational effectiveness and health, through the development of the fundamental organisational unit – groups and teams.
Systemic Organisational Diagnosis
We utilise systemic diagnostic approaches to gain a thorough understanding of organisational issues and assess organisational alignment.
Diagnostic Surveys and Analyses
Cultural Surveys
Needs Assessments
Visioning and Strategy Formulation
Visioning mobilises inputs from all stakeholders, explores and analyses the past and present to create 'desired future states' – the basis for strategic imperatives and action planning.
Vision and Mission Development
Strategy Formulation and Definition
Core Values and Behaviour Models
Stakeholder Surveys
Business Research
Strategic Management and Execution
We engage in the process of guiding organisations towards the execution of its strategic imperatives within a conceptual framework of understanding strategy, strategic thinking, strategic management, strategic objectives and operational planning.
Strategy Review and Analysis
Strategic Planning
Strategic Plan Preparation
Developing Strategic Thinking
Strategy Implementation
Operational Planning
Policy and Process Alignment
We conduct a comparative analysis of the organisation's philosophy and strategy as expressed in its policies, processes and procedures with actual practices and provide services to improve performance.
Policy and Procedure Analysis
Policy and Procedure Manuals
Process Improvement
Process Mapping
Team Technology
Team-building enables teams to manage better and capitalise on their resources to improve functioning and provide the organisation with quality results.
Team Building Workshops
Assessing Team Composition
Evaluating Team Effectiveness
Organisational Communication
Typical communication content, patterns and processes are examined and their effectiveness assessed in the context of the organisation's philosophy and goals to facilitate shared meaning and understanding.
Assessing and Transforming Organisational Communication
Organisational Language and Culture
Organisational Transformation
We partner organisations through the process of creating and anticipating change, planning implementation and treating with the outcomes.
Transformation Planning
Organisational Restructuring
Transforming Organisational Culture
Leading Through Change
Change Management Workshops
Building Change Management Teams
Change Impact Assessment
Change Readiness Assessment
Transformation Process Audits
Quality Service Systems
We explore organisation's customers and their needs, service delivery processes and individuals in the organisations. Applying the work processes, attitudes and behaviours that contribute to quality service delivery, we design and deliver interventions to positively impact the service systems.
Analysing Service Delivery Systems
Improving Service Delivery Processes
Quality Customer Service Workshops
Developing Customer Service Manuals
Communication Skills Workshops
Leadership is about creating the influence to travel on the ground of today's realities, through the turbulence of changing landscapes, inspired by the vision of a desired future.
Leadership and Managerial Development
To develop quality managers to succeed in today's environment, our interventions begin with a focused exploration of the person, shifts to an examination of the management function, followed by the techniques and skills.
Visioning / Futuring and Innovation
Leadership Development
Team Building
Change Management
Coaching and Counselling
Performance Management
Communication
Decision Making / Problem-Solving
Conducting Effective Meetings
Conflict Management
Time Management
Strategic Human Resource Management
Strategic Human Resource Modelling
Human Resource Audits
Human Resource Planning
Recruitment and Selection
While training and development can improve the human resources in the organisation, business results lie in the quality of human resources introduced into the organisation.
Assessment Centres
Interviewing Skills Workshops
Behavioural Testing and Profiling for Job Fit
Performance Management
Performance management takes a holistic view of the process through which organisations ensure the achievement of results. It includes defining performance standards, identifying and diagnosing performance discrepancies and reducing performance gaps.
Designing and Introducing Performance Management Systems
Diagnosing Performance Discrepancies
Defining Performance Standards
Performance Appraisal Workshops
Assessment-Development Centres
Organisations must have the "right people" in the "right place" and ensure that staff are challenged to improve their competence. This solution focuses on assessing candidates' competence or 'fit' for given positions, identifying critical development gaps and making recommendations on development activities to move individuals to the required level of performance
Assessment Centres (Recruitment)
Assessment-Development Centres
Executive Coaching
Quite often, managers are not sufficiently prepared to move into complex leadership roles that may differ significantly from their areas of technical expertise. One approach to closing this gap is Executive Coaching. Our Executive Coaching Practice is based on the premise that coaching, willingly entered into, is designed to improve performance in a specific, agreed upon area of activity through a supportive- directive process over a specified time period.
Learning and Development
Critical to the effective use of Training as an organisational development tool, is an understanding of the entire training process, from needs assessment, through design and delivery to impact evaluation. With extensive experience in this area, we build organisational competence in this area through:
Training Needs Assessment
"Train the Trainer" Skillshops
Developing a Learning Culture
Behavioural Style Analysis
The participants come face-to-face with all aspects of their behavioural style and the way it affects others. Issues of identifying the styles of others, situation-specific style-shifting for improved effectiveness and conflict-management styles receive detailed attention.
Style Analysis Workshops
Individual and Team Style Analysis
Style Profiling for Placement
Workforce Diversity
Our approach sensitises people to their own diversity 'issues' and 'concerns', works with them towards valuing the differences that people bring to the organisation and mobilises the value created through diversity towards energising organisational success.
Diversity Workshops
Managing Differences
Workplace Mediation
Outplacement Services
A reality of today's competitive environment is that organisations may have to reduce their complement of Human Resources. We work with clients to establish the most effective rationale and process for doing so and provide support services that address the psychological, employment and financial aspects of outplacement.
Outplacement Planning
Outplacement Workshops
Counselling and Support Services
"Survivor" Workshops
Career Management
Our approach to Career Management provides an integrated set of interventions and processes that ensure organisational success while meeting individual needs.
Manpower / Succession Planning
Human Resource Audits
Competency Modeling
Job Descriptions
Skills Profiling
Career Coaching
Career Planning Workshops
Pre-Retirement Workshops
Self-Management Skills
We encourage participants to take up the challenge of managing themselves, take personal responsibility for their future and commit to personal change and improved effectiveness.
Self Management Workshops
Stress Management
RejuvenateU Retreat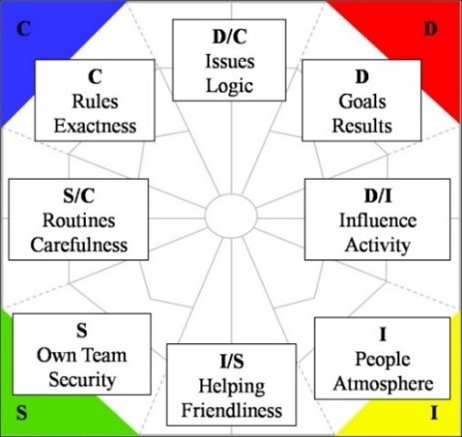 Extended DISC ® Assessments, is a globally recognised and scientifically validated psychometric tool, which provides a 'neutral' framework for understanding behaviour and managing individual and team performance.
Extended DISC® Individual Assessments
Extended DISC® Individual Assessments describe an individual's natural behavioural style across situations; general working style, motivations and dislikes; strengths and potential improvement areas. Work-Pair and Team Assessments are also available.
FinxS® Management 52
FinxS® Management 52 provides a match percentage on 52 pre-determined management competences, identifying strengths and areas for development.
Features:
User-friendly online questionnaire

Customisable reports

Practical, relevant results
Competence Assessments
Competence Assessments are useful for measuring the required behavioural competences specified for job roles and industries. These customisable assessments will support your selection and talent development strategies.
Webinars and Skillshops
Today's organisations need practical, collaborative and results-driven solutions to enhance leader and team competence. Our experienced, interdisciplinary team of consultants work with you to diagnose, design and deliver client-specific learning and development approaches.
With our guided facilitation and expertise, learners gain practical, adaptable tools to lead and support organisational initiatives. Training areas include:
Leadership Development

Change Management

Emotional Intelligence

Performance Management

Teambuilding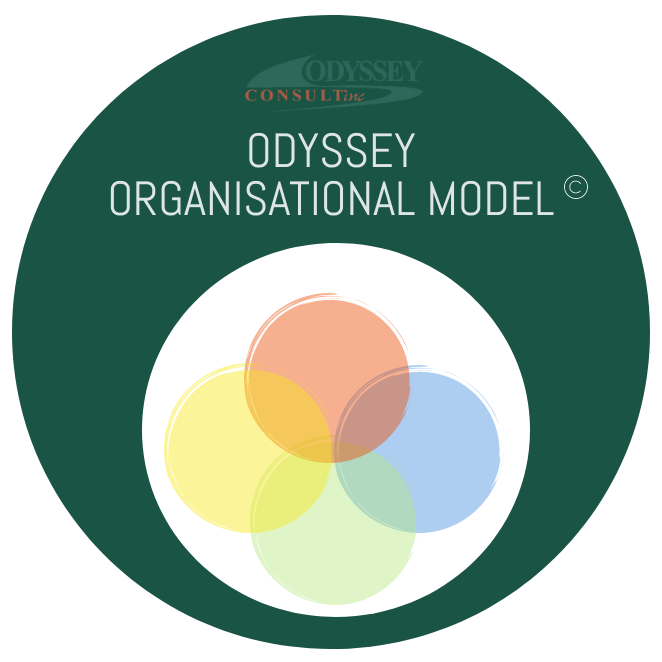 Odyssey Organisational Model ©
The Odyssey Organisational Model© is a proprietary framework, used to systemically evaluate organisational functioning and dynamics, utilising four primary elements – vision, operational, socio-cultural and human. These organisational elements are assessed within the transactional (business) environment and the broader global contextual environment.
Our model facilitates the development of effective, integrated approaches to optimise organisational performance and results.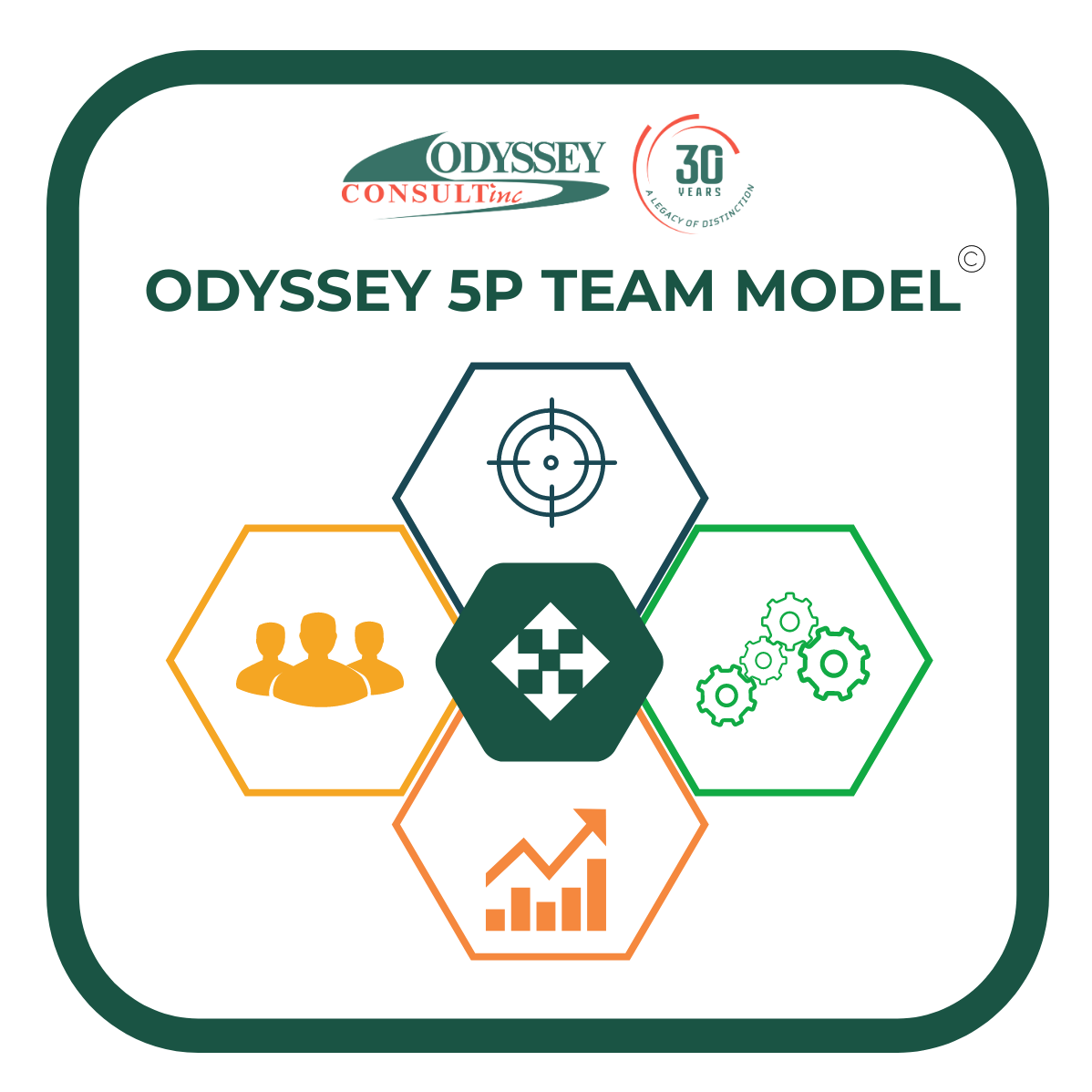 Odyssey 5P Team Model ©
Odyssey 5P Team Model© addresses the fundamentals of teamwork and allows for flexible approaches to address a range of team issues, unique to each client.
Its application guides organisational teams to define a clear purpose and its deliverables to various stakeholders, to improve how the team organises to fulfil its functions and to leverage the potentially rich diversity of the team. Underpinning these are principles which guide team functioning.
Odyssey Change Impact Assessment (CIA) ©
Odyssey's Change Impact Assessment© provides a comprehensive, sequenced framework for exploring internal and external impacts of major organisational change events. The CIA identifies potential change impacts and threats, and areas for action to ensure optimal conditions for implementing and sustaining change.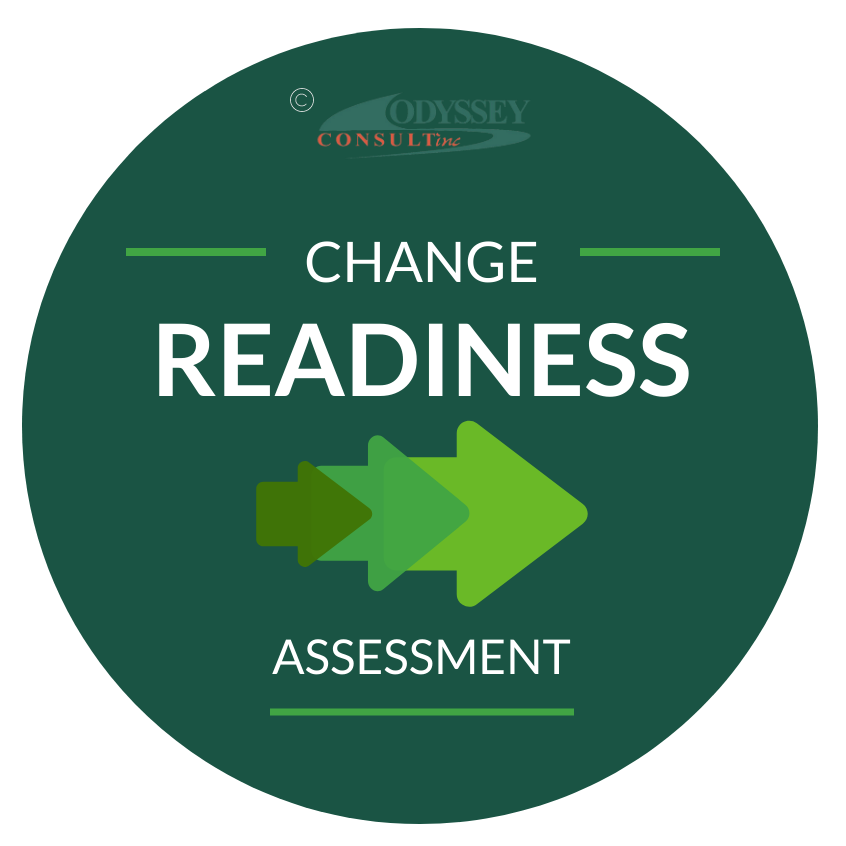 Odyssey Change Readiness Assessment ©
The Odyssey Change Readiness Assessment© evaluates the extent of change readiness (or potential change resistance) in an organisation. OCRA© enables organisations to plan transitional structures and approaches to ensure successful execution of planned change events and achieve a positive transformation.
Our Client Network
We serve an expanding client network of local and regional organisations in the public and private sector. Here is a cross-section of our clients.